Box2021 – Save the planet
Part of the content is still a surprise!
6 different works of art, edition of 100
€550
Enquiry
Dimensions: Box2021 55:40:4 cm.  Handmade artworks: 54:39 cm. Artworks on Bhutanese handmade paper. Separately numbered and signed.
Maayke makes a lot of work that is based on current events.  For the second year Maayke has put together a "collector's box" especially for all her collectors.
The Box2021 contains 6 different works of art that you can keep in the Box itself, but you can also hang them separately on the wall.  All works are inspired by important themes of the past year. Together, the works read like a concise annual overview.

Collectors who order "BOX2021" are the first to be eligible to order "BOX2022" next year and will receive an equally numbered copy.
Box2021 will be delivered before Christmas.
important note for collectors: A maximum of 100 boxes are available, each with its own unique number. Collectors who ordered last years Box get priority on buying this years Box2021. If you have not bought a Box before, you can still order a Box now, so that we can reserve your Box, if there is a Box left over. We allocate Boxes in order of order date. If there is no Box left after November 1, you will receive a full refund.
CONTENTS Box2021 – "Save the planet"
First artwork (of a total of 6):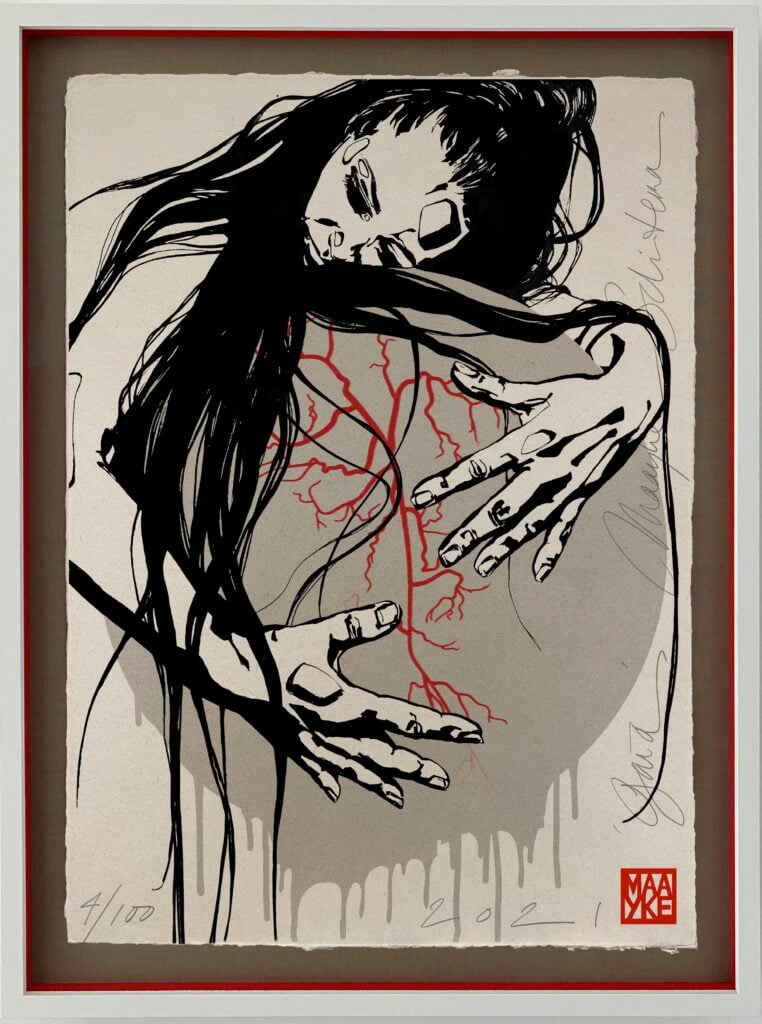 'Gaia': 2021 looks set to be the year in which not only is there much talk about climate change, but there is also a global consensus that concrete measures are needed to save our planet. Governments, companies and consumers come up with programs that should lead to a reduction of Co2 emissions. Electric driving should become the standard. The IPCC climate report will eventually be taken very seriously in 2021.
In this image we see Gaia, the Greek goddess of earth, the primeval mother, protector of our planet. She protects her world that is alive, symbolized by the red veins.
Second artwork (of a total of 6):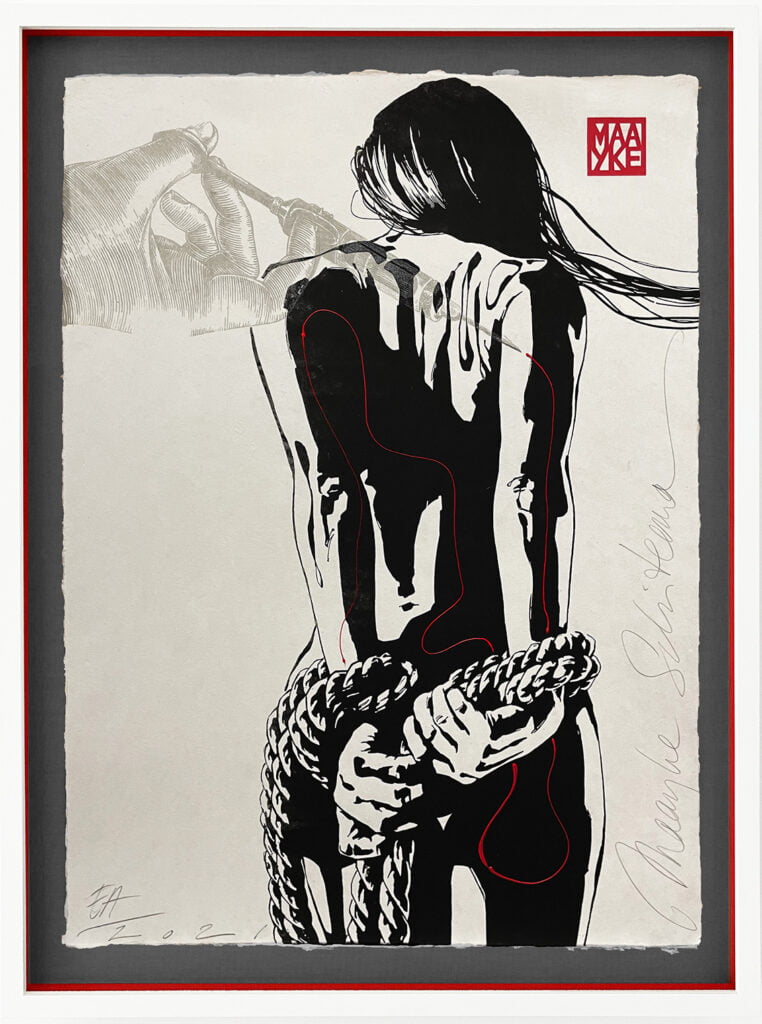 'Freedom 2.0': This year, the vaccinations on a global scale cannot be missed in this annual overview. For some this means freedom and others feel compelled.
Next works? keep track of this website or social media from Maayke…
EXAMPLES PREVIOUS YEAR (Box2020 – 'The Corona year')
See unboxing last years Box 2020:
CONTENTS Last years Box2020 – "The Corona Year"
      Go to Box 2020
A dear collector sent us pictures of the framed Box2020 at her home in France: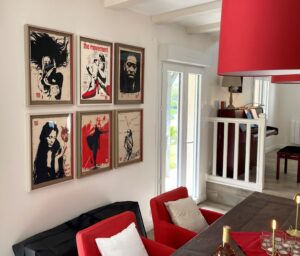 Box2020 framed by: Ron de Hoog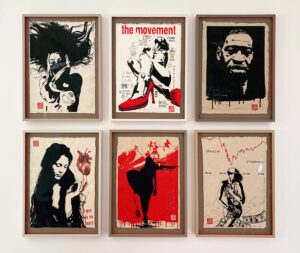 The works in the box are also available in an original "core work" or a low edition in a larger format. Each format requires its own approach and these works differ from the 6 prints in the BOX2020, but are linked to each other. Would you like to know if there is any core work available? You can contact us via info@maayke-collection.com