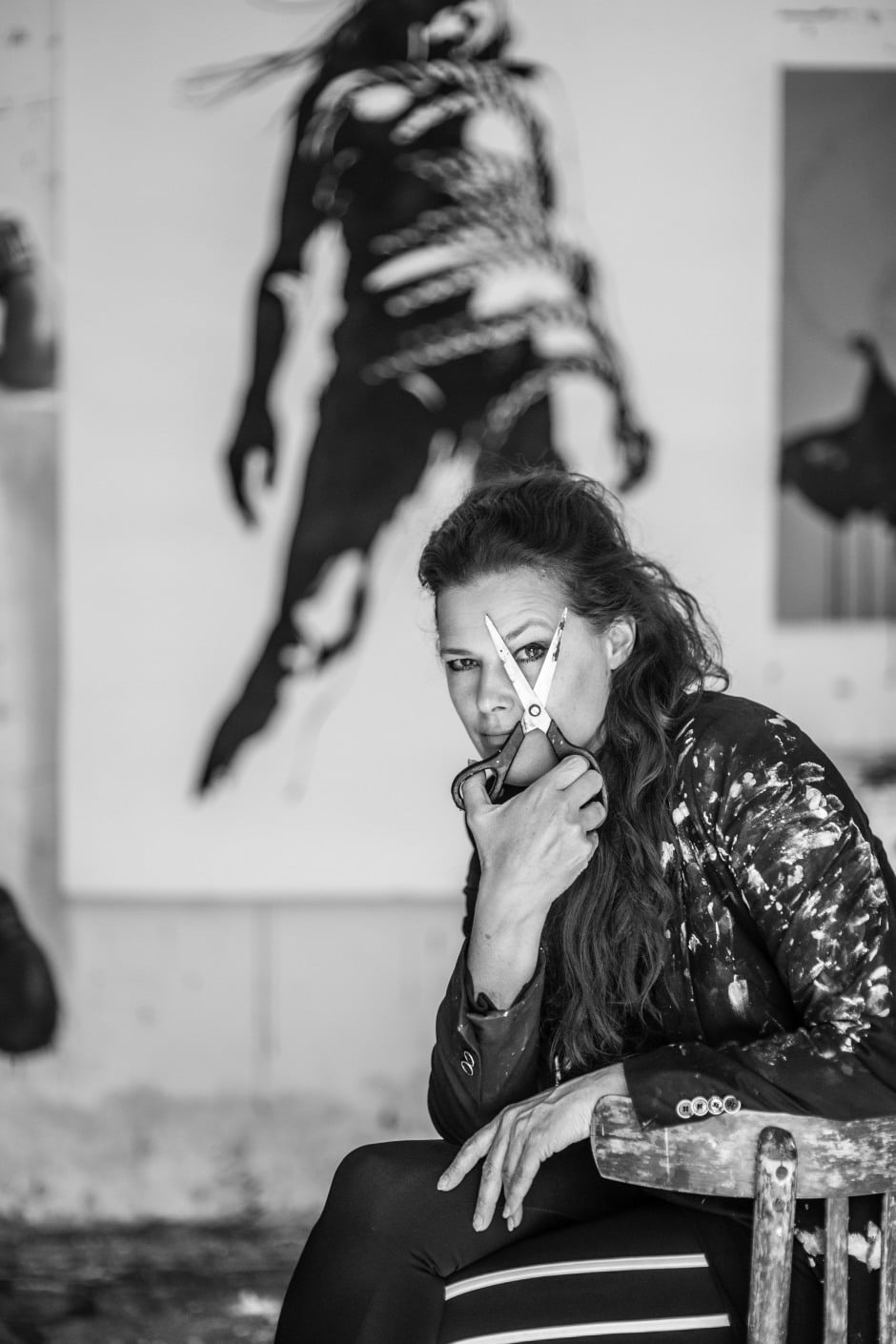 Photo credits: Mariel Kolmschot, 2021
Maayke Schuitema (The Hague, 1974)  is a Dutch artist who lives and works in The Netherlands. She has studied in The Hague at the Royal Academy of Fine Arts and ballet at the Royal Conservatory. With her recognisable style, she has been firmly established in the art world for more than 20 years.
Though Maayke is a gifted illustrator and painter she is mostly known for her large scale linocut prints and the artworks depicting her involvement in the women's movement.
Maayke's recent work is more direct than ever. The activist artworks relate to black and white photography and affiche art; it propagates, communicates and stimulates reflection. Her graphic lines and visuals in clear black with a touch of bright red enter BAM directly. With her recognisable 'red high heel' she is flirting more and more with the graphic world. Maayke is increasingly entering into collaborations with major companies that embrace her recognisable designs. A perfect and logical continuation of her visual story; 'She Decides'!
________________________________________________________
…"The female nude as depicted in all forms throughout centuries of art history, can and will never disappear. Women are beautiful, sensual and the most gratifying subject in the arts.
The #MeToo-discussion resulting in large numbers of women fiercely standing up against the sexual abuse of power by male artists, is an important and imperative insurgency. This however should not lead the perissifying of the nude in art.
It is the prudence and conception of the creator that is able to shift the connotation 180° from an object of lust, to a strong equal yet sexual individual. Only the woman herself can create the prolific deepening of her nudity and sensuality because she is her own subject.
It is up to us, female artists, to shape this social issue and lead the way"…
#Avant-Garde | Maayke Schuitema
---
S t u d i o M a a y k e
Duindigt 10, Wassenaar
Info@maayke.nl
R a d e m a k e r s G a l l e r y
KNSM-Laan 291
1019 LE Amsterdam
The Netherlands
www.rademakersgallery.com
P r o j e c t  2 . 0
Noordeinde 57
2514 GC The Hague
The Netherlands
www.project20.nl