BOX2022 – Make love not war
€590
Enquiry
Dimensions: Box2022 55 : 40 : 4 cm.  Hand printed artworks ca 54:39 cm. All artworks are prints on handmade paper. Separately numbered and signed. Edition 100 and 8 AP's
The Box2022 contains 6 different works of art that you can keep in the Box itself, but you can also hang them separately on the wall.  All works are inspired by important themes of the past year. Together, the works read like a concise annual overview.
Collectors who order "BOX2022" are the first to be eligible to order "BOX2023" next year and will receive an equally numbered copy.
Box2022 will be delivered in the first week of December 2022
CONTENT BOX2022 – Make love not War – 6 hand printed artworks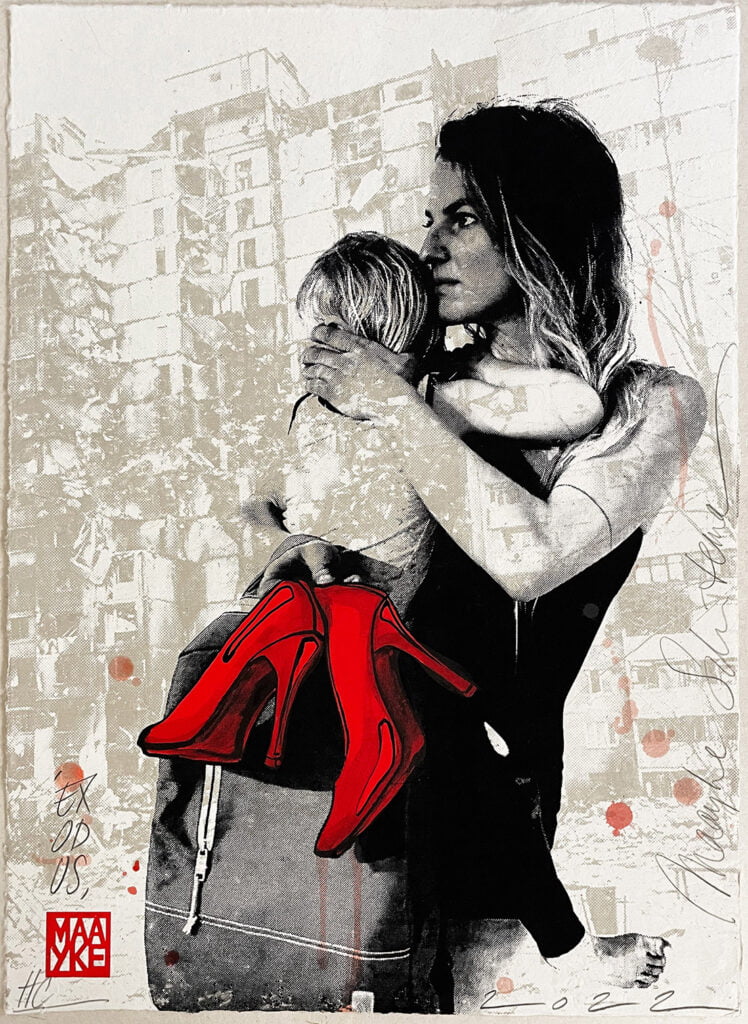 ' E X O D U S ' The ongoing large-scale war between Russia vs Ukraine has led to a major refugee crisis and tens of thousands of deaths. Women and children were abruptly forced to leave their homes and flee to countries across Europe, leaving their husbands and sons to fight.
Russia surrendered an attempt to take Kiev in early April 2022 amid fierce resistance. In late September, Russia announced the annexation of several parts of southern and eastern Ukraine, which was widely frowned upon.
In this image we see a mother and her child on their way to uncertainty. Hastily left her bombed-out house, having no time to think about what to take with her. The future is uncertain…
Technique: three color silkscreen and acrylic on handmade Japanese Gampi paper, hand signed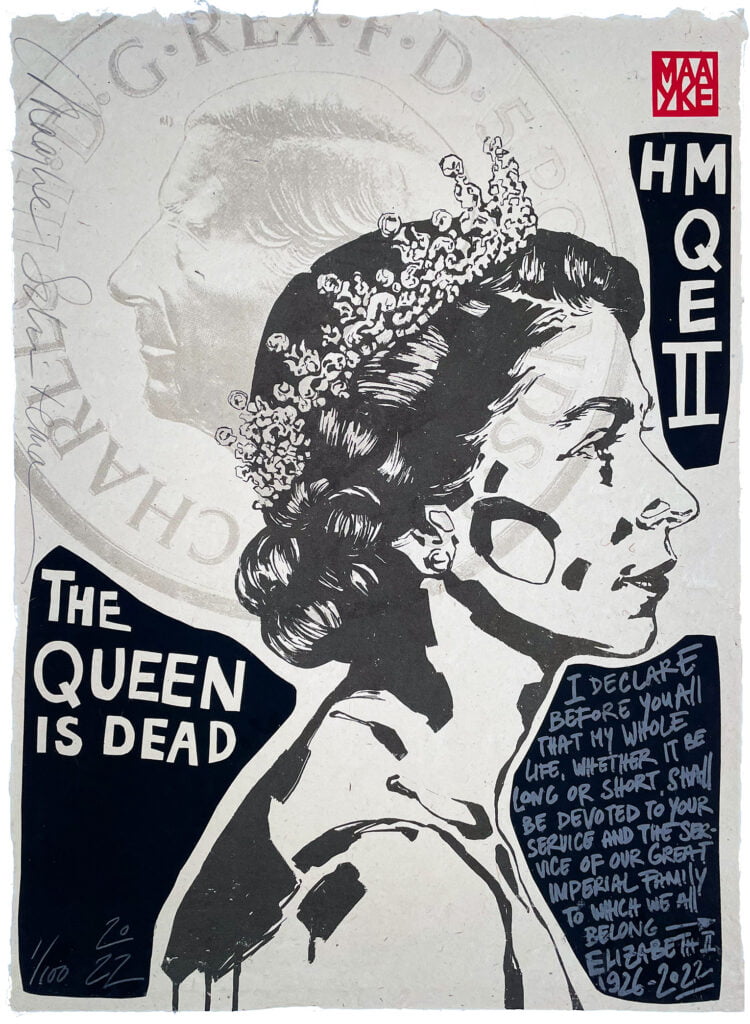 ' Long live the King ' Elizabeth II (21 April 1926 – 8 September 2022) was Queen of the United Kingdom and other Commonwealth realms from 6 February 1952 until her death in 2022. During her lifetime, she was Queen of 32 sovereign states, 15 of which at the time of her death.
Her Majesty was one of the most photographed figures in history. Over a long period of declining British military and political reach, images of Her Majesty supported the projection of soft power and played a key role in strengthening public support for the monarchy.
As king, Charles has said he wants to balance tradition and progress. Many of his closest observers assume he will break the mold — or at least crack it.
In this image Maayke has depicted the young still ignorant Queen. In the background the new coin that has been minted from the king. HMQEII vs HMKCIII, the world is watching…
Technique: four color silkscreen on handmade Buthanese  Mitsumata paper, hand signed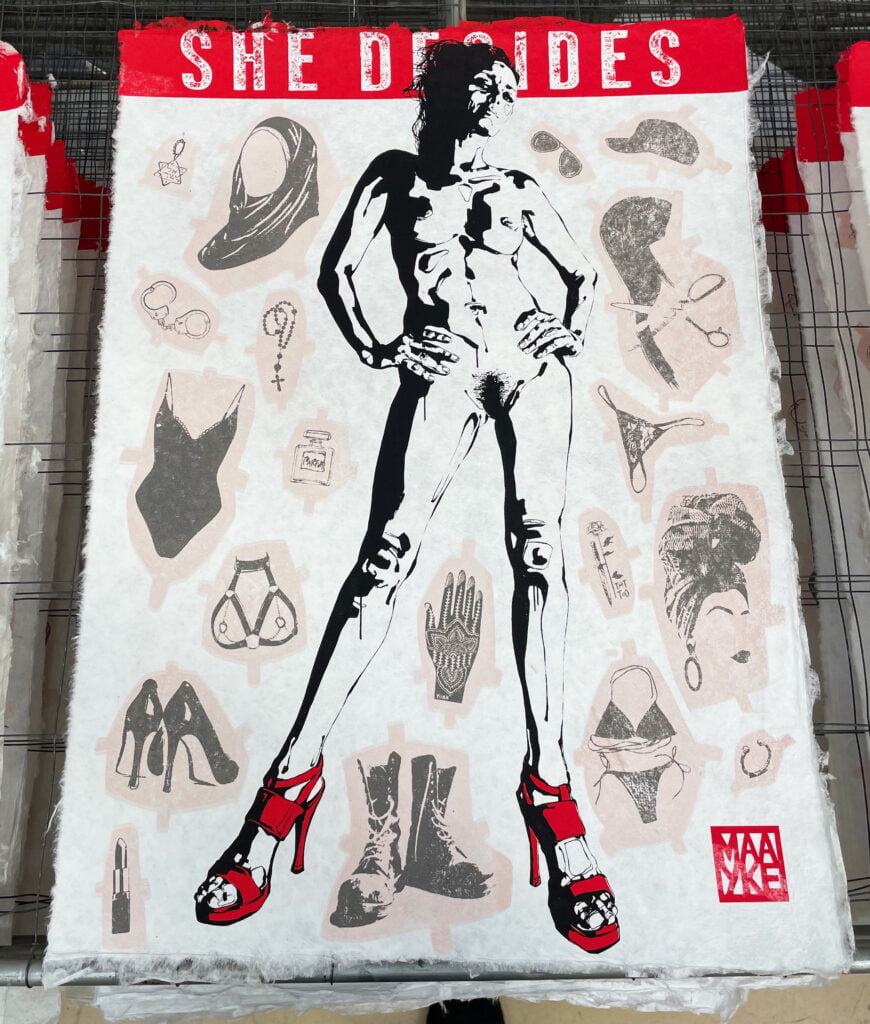 ' She Decides ' From small villages to the steps of Tehran University in the capital, women lead men. They are at the forefront of protests, bringing the crowd together by burning their obligatory hijabs (headscarves), cutting their hair and dancing in public. Their immediate cause is Mahsa Amini, a 22-year-old college student, who died on September 16 after morality police beat her, apparently for wearing a loose hijab. But their grievances are fueled by four decades of religious strictures that have fallen most heavily on women. Their protests are spreading, fighting the regime,
In this image Maayke portrayed the strong woman. She chooses what she wears or doesn't wear, whatever choice she makes, whether she displays her religious preference or emphasizes her pluses…. She and only she decides!
Technique: four color silkscreen on handmade cotton paper, hand signed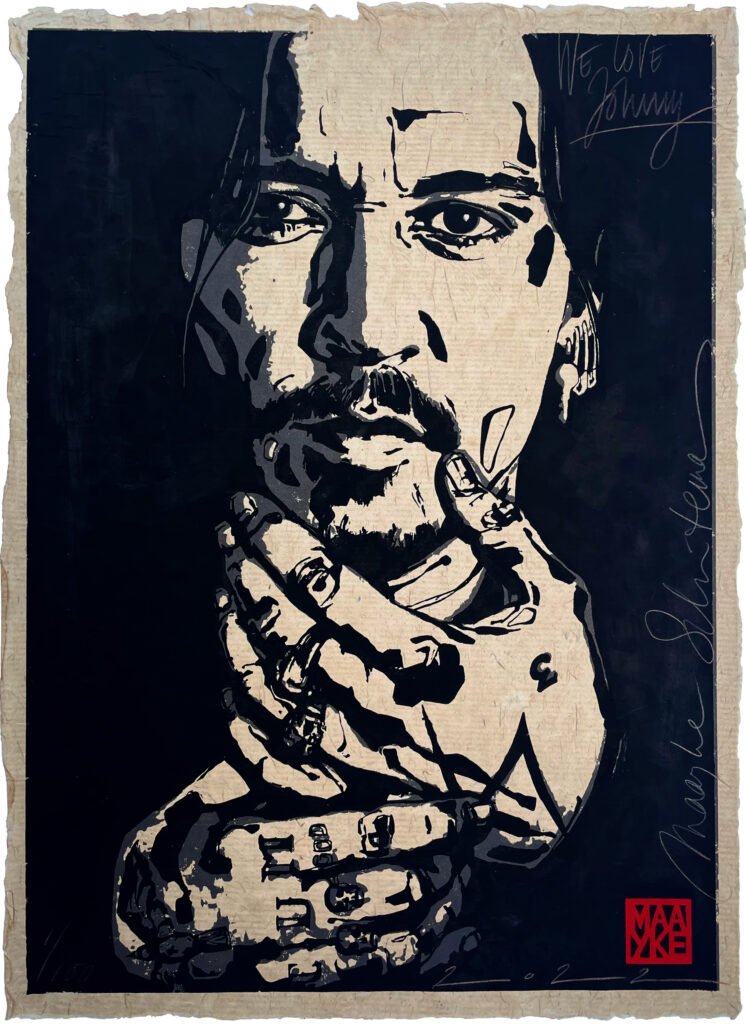 ' We love Johnny ' Depp vs Heard was a trial that settled allegations of defamation between formerly married American actors Johnny Depp and Amber Heard.  Early in their divorce proceedings, Heard claimed that Depp physically abused her, which he denied. Striking for our post-Me Too world, both the judges and the loudest voices on the internet overwhelmingly sided with the pirate. And while there's compelling evidence that violence came from both people in this marriage, it's far from clear that Heard was the primary aggressor. What Depp does have is the stronger public profile, he has done enough acclaimed work over the course of his long career to earn a fair amount of goodwill.
More than 500 million people watched the defamation lawsuit on YouTube channels
Technique: Two color silkscreen on handcrafted Bhutanese Radhi paper, hand signed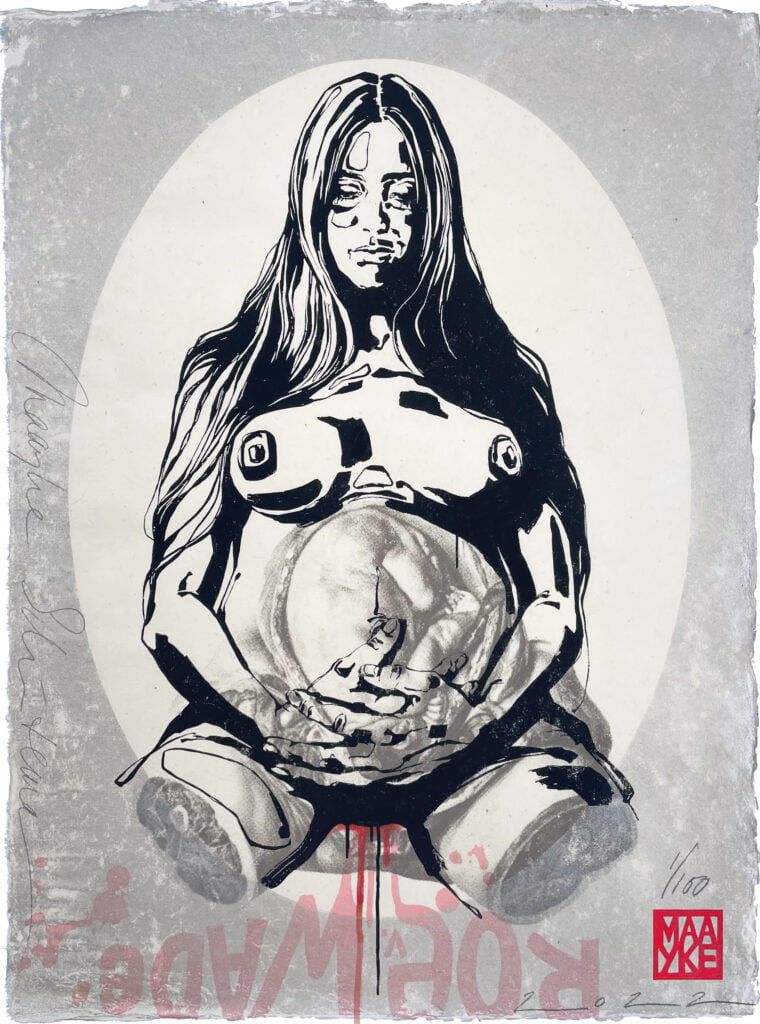 ' My body my business ' In June 2022, the U.S. Supreme Court overturned Roe vs Wade, the groundbreaking piece of legislation that made access to abortion a federal right in the United States. The decision dismantled 50 years of legal protection and paved the way for individual states to curtail or completely ban abortion rights.
Already in many states abortion is banned automatically or through state measures after the decision. In addition, other landmark rulings need to be reconsidered, including established rights of access to contraception, same-sex relationships and same-sex marriage. The implications, especially for women of color, will be very worrisome. It should not be the case that in a country like America the equality between men and women is thrown back in time 50 years again
Technique: Acrylic and four color silkscreen on handcrafted Japanese Mulberry paper, hand signed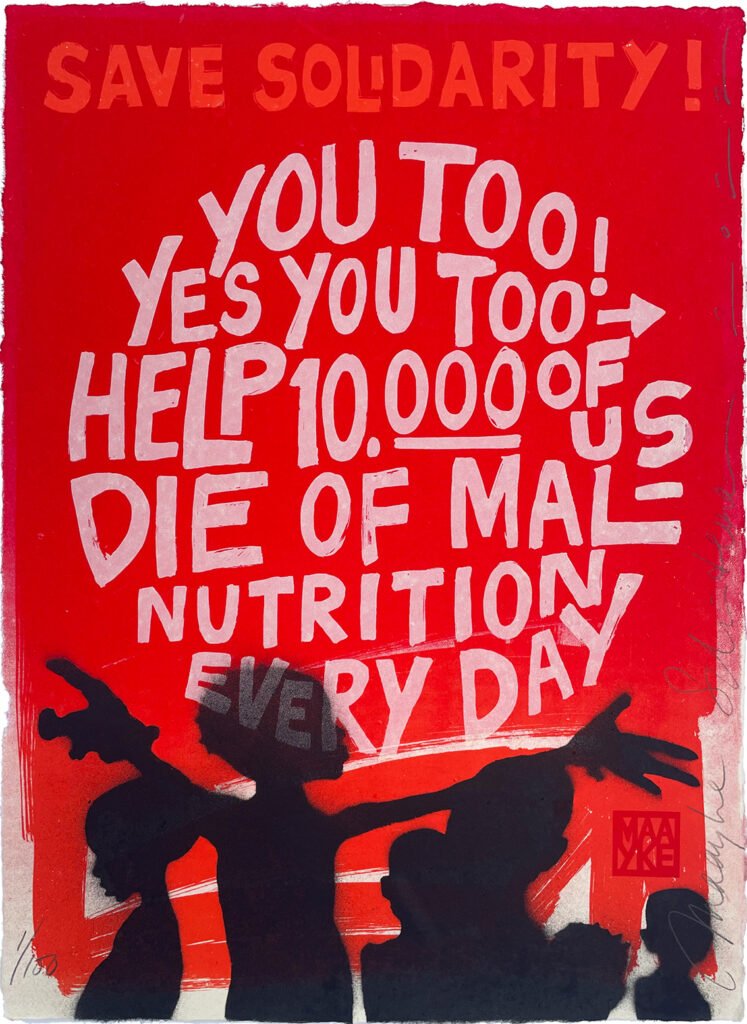 ' Save Solidarity ' The silent disaster of 2022; Never before were so many children with extreme hunger in the world, more than 10.000 children die daily from chronic poor nutrition. Climate change, scarcity, the pandamic and war mean we are currently experiencing one of the most threatening catastrophes in 40 years and the situation continues to deteriorate.
Every child born on this planet has the right to eat. We live in a world where we have enough food for everyone, but not everyone has enough food!
Malnutrition leads to early developmental problems that cause stunted growth and serious diseases. Being born into poverty and having no access to food means very few opportunities to grow, be healthy, be happy and have the opportunities that more privileged individuals take for granted. Hunger deprives children of much more than just food. It deprives them of the opportunity to grow strong enough to take care of themselves, get an education, take care of their families, and enjoy their lives. A child without food has a small chance of really living. And what do we do, the privileged ones… in which world do you want to live?!
Technique: Spray paint and three color silkscreen on handmade Japanese Gampi paper, hand signed