BOX2023 – The world is on fire (6 limited artworks in 1 BOX)
€590
Enquiry
Features 6 hand printed artworks inspired by what I consider to be the most important and impressive events of the past year. Therefore the BOX2023 will give you a lasting visual overview of this restless and feverish 2023
Dimensions: Box2023 55 : 40 : 4 cm, artworks ca 54:39 cm. All artworks are silkscreen prints on handmade paper. Separately numbered and signed. Edition 100 and 5 EA's
The Box2023 contains 6 different works of art that you can keep in the Box itself, but you can also hang them separately on the wall.  All works are inspired by important themes of the past year. Together, the works read like a concise annual overview.
Collectors who order "BOX2023" are the first to be eligible to order "BOX2024" next year and will receive the same edition number.
Box2023 will be delivered in the first week of December
The Conflict
(Artwork depicting the 
Israel-Palestinian Conflict

| this work is still in Progress)
Durga
Globally, 2023 hottest year on record!
According to the stories, the supreme goddess Durga overpowered the great demon who threatened to destroy the earth. She protects her by punishing this demon called humanity's footprint and it seems she's working at full strength with heat, fire, smoke and suffocation. Mother Earth is feverish, exhausted and rapidly growing hotter. We demand much more from her than she can give us. We already need 2 Earths to feed us. Carelessly and selfishly, we are depleting our planet, and those actions come with a price that goes beyond dollars. Records are broken this year. To name a few; Fires burned about 5% of the entire forest area of Canada. The fires in Tenerife were the worst in 40 years. Chile is experiencing the worst mega-drought in a thousand years, with a bizarre number of hectares burning to the ground. Beautiful Hawaii experienced a fourfold increase in the number of fires. The heatwave engulfing Greece was set to be the longest in its history stirring up 80 wildfires…
Because of the resources that humanity extracts from the earth and the burning of fossil fuels we made 2023 the most destructive forest fire season ever! We're making a 'hot mess' of it. No wonder Durga is pissed!
4-Color silkscreen print and stamps op Bhutanese paper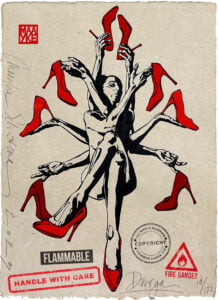 Clair-Obscur
"What I prefer to show is a perfect world with a crack in it"
Erwin Olaf (1959-2023), one of the most important photographers from the last quarter of the 20th century died. He began as a controversial artist, striving to knock down established norms and celebrate diversity. While living in a squat in Amsterdam in the 80s, Olaf began photographing the city's nightlife. He challenged taboos by capturing the gay liberation movement and exploring sexuality in contentious black and white pictures.Despite his love for the underground and his raw and edgy work he was soon embraced by the mainstream. His work is strongly rooted in the visual tradition of Dutch art. His affinity with the light of the old masters and his strong knowledge of the medium meant he was soon included in all major art collections and museums. He constructed his own surrealist dreamworld in meticulously staged images.The Rijksmuseum in Amsterdam has added his work 'Hope, portrait 5, to the Gallery of Honor, next to Johannes Verspronck's Portrait of a Girl in Blue (1641). Erwin Olaf's photos are there for eternity, like the paintings of old Dutch masters.
2-Color silkscreen print on handcrafted Bhutanese paper. Hand signed

Afraa
Baby Afraa was born on February 6 2023, in the northern Syrian town of Jinderis. She was found under the rubble, between her parents, her umbilical cord was still connected to her mother. The Mw7.8 earthquake in Turkey and Syria with a confirmed death toll of 60,000 also crushed her parents and four siblings the day she was born. It is the deadliest earthquake in what is now present-day Turkey and the deadliest natural disaster in its modern history. It is also the deadliest in present-day Syria since the 1822. An estimated 18 million people were affected and about 1.5 million people were left homeless. Although most deaths occurred in Turkey, this earthquake had a catastrophic effect on Syria, a country with one of the largest humanitarian crises in the world and that is already ravaged by over twelve years of war. In northwest Syria 4.1 million people depend on humanitarian assistance, the majority of whom are women and children. The story of the baby captivated Syria at the time, people from all over the world offered to adopt her. Baby Afraa, named after her late mother, become a symbol of hope. Something that Syria still desperately needs, and more…
3-Color silkscreen print on handcrafted Bhutanese paper. Hand signed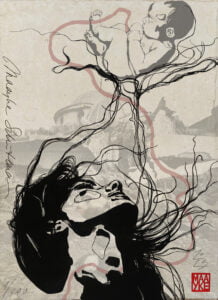 Sinéad 
Ode to singer-songwriter and political activist Sinéad O'Connor (1966-2023). She was evocative and outspoken and while her fellow male rockers could be activists and were rewarded for it, Sinéad was often labeled as "the problem". She was marginalised and cancelled in the sense of the "feminist killjoy" when she brought up these 'problems' with her songs about sexism, homophobia and racism. But all of that paled in comparison to the uproar by ripping a photo of Pope John Paul II as a stance against sexual abuse in the Roman Catholic Church. That incident immediately made her a target of criticism and scorn, from social conservatives and beyond. Although "Nothing Compares 2 U" became her career signature she preformed for her own liberation as well as that of others and therefor opened up space for a new generation 'my-life-is-art' female pop stars. Sinead was the true embodiment of a punk spirit. She did not compromise and that made her life more of a struggle.
2-Color silkscreen print on handcrafted Japanese Gampi paper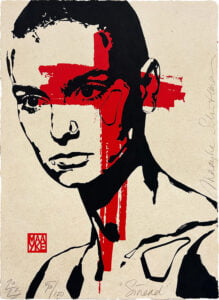 It's a girl!
Being a woman is considered a sin, even a crime, in Afghanistan. More than two years ago, the Taliban, in accordance with their interpretation of Islamic law 'Sharia', banned and deprived almost 3.5 million Afghan teenage girls of education. The Taliban defied the resistance and made matters worse; last year they have made the full face veil mandatory in public and have not only excluded women and girls from higher education, they are also forbidden to travel alone, are banned from parks, public baths and barred from most jobs. The rights of women in Afghanistan are not respected, therefor they are not protected against violence, forced (child) marriages and rape. One of the obvious consequences of the education ban is the lack of training of aspiring healthcare professionals. Afghan women cannot see male doctors. So how can Afghan women, in a strictly gender-segregated society, get the most basic healthcare if there are no female professionals to treat them? Because women and girls are made invisible, they are seen as the lost generation. This year Afghanistan has been declared the worst place in the world to be a woman!
4-Color silkscreen print and acrylic pencil on handcrafted Japanese Gampi paper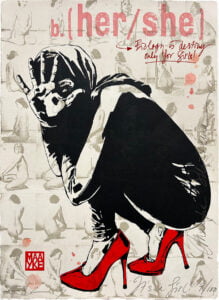 Light my Fire 
Every BOX23 comes with a matchbox to light your own campfire in these dark days 🙂