Box2020- The Corona Year (on the wall)
6 hand printed artworks, edition of 100
€550
Sold out
Enquiry
Sorry this year is sold out. Do you want Box-2023? See if its is available at: Box-2023
The BOX2020 contains 6 different works of art that you can keep in the Box itself, but you can also hang them separately on the wall. A maximum of 100 boxes are available, each with its own unique number. When ordering, you can place a comment in the 'note field' and indicate whether you prefer a specific number from 1 to 100. We try to take your choice into account.

Maayke makes a lot of work that is based on current events.  Now Maayke has put together a "collector's box" especially for all her collectors, containing 6 different works. All works are inspired by important themes of the past year. Together, the works read like a concise annual overview.
Box2020 will be delivered before christmas.
Collectors and enthusiasts who order "BOX2020" are the first to be eligible to order "BOX2021" next year and will receive an equally numbered copy.
You can keep the Box in your bookcase or hang the artworks on the wall.
Unboxing Box2020
CONTENTS Box2020 – "The Corona Year"
The box contains 6 hand printed works, in linocut print, silkscreen and stencil printing. The box measures approximately 54: 40 cm (21,26: 15,75 inch) and the works are printed on specially selected handmade paper. Each work is numbered and signed. As a collector and art lover you can follow and keep the development of Maayke over the years.
The circulation is deliberately higher and the price kept a bit lower than you are used to. This way, several collectors at home and abroad can participate. Also in the coming years. Total edition is 100.
Delivery
You will receive the box before Christmas!
Serial numbers
Tip: Choose a number with which you have a special relationship, such as the year of birth of a child, your house number, the date of your birthday or something else personal.
It is not the number itself that matters, but ultimately a series of boxes of equal numbers. We reserve this number for you for next year, of course without any obligation. You can enter your preferred number in the 'notes field' during checkout. We try to take your choice into account. If your desired number has already been assigned, you will be assigned another number. In total, a maximum of 100 boxes are available.
Description Artworks in Box2020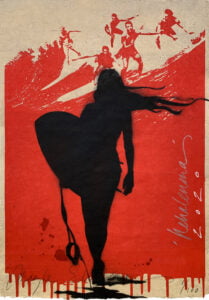 'Nehalennia': Maayke is the daughter of a surfer, she spent her childhood between Wassenaar and Scheveningen with her feet in the North Sea and sand in her hair. The deaths of the 5 surfers in Scheveningen should therefore not be missed in this BOX2020. "The sometimes unbearable beauty and grandeur of the sea takes lives every year. Nehalennia, the goddess of the North Sea turned out to have a different path for these 5 young men and are forever part of her underwater world"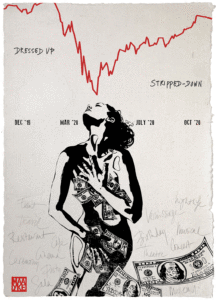 'Dressed Up – Stripped Down': The Corona year has given us a new crisis. No one knows how this will unfold, but many people experience a loss of income and are more uncertain about their future. Even people who keep their income can (temporarily) not spend this on the luxury they were used to, such as Theater visits, Eating out and Holiday trips. In this work Maayke combines the uncertain stock market prices with the disappearance of a certain prosperity that was considered 'normal' for many.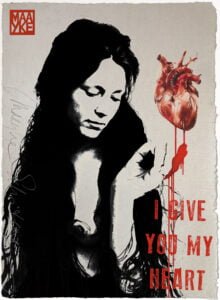 'I Give you my Heart': The new 'Dutch Donor Law' may have received less attention due to the Corona year than would be usual in a 'normal year'. Yet it is special that in the Netherlands people are obliged to make their organs available to society, after death, if they do not explicitly indicate that they do not want to. An event that Maayke thinks is important enough to be included in this collection box of 2020.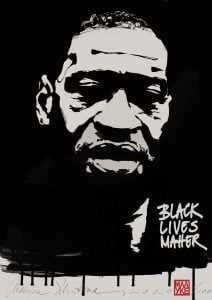 'George Floyd': The terrible death of George Floyd not only led to a lot of protest in America, but also in Europe and in the Netherlands. The 'Black Lives Matter' theme is close to Maayke's heart, that's why she has also made other works of art that refer to this theme, such as; 'Black is Beautiful'.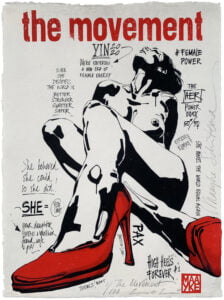 The movement: The world is currently leaving the Yang era (masculine energy), an episode in history highlighted by masculine domination, war and oppression, and entering a new era of Yin (feminine energy). The fine example of Kamala Harris becoming the first woman to be vice president-elect is an intelligent and much needed result.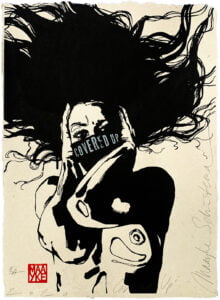 Covered up: Living in the post-Covid world; Will masks become the "new normal" even after the pandemic is over?
Go to next year: Box-2021
A dear collector sent us pictures of the framed Box2020 at her home in France: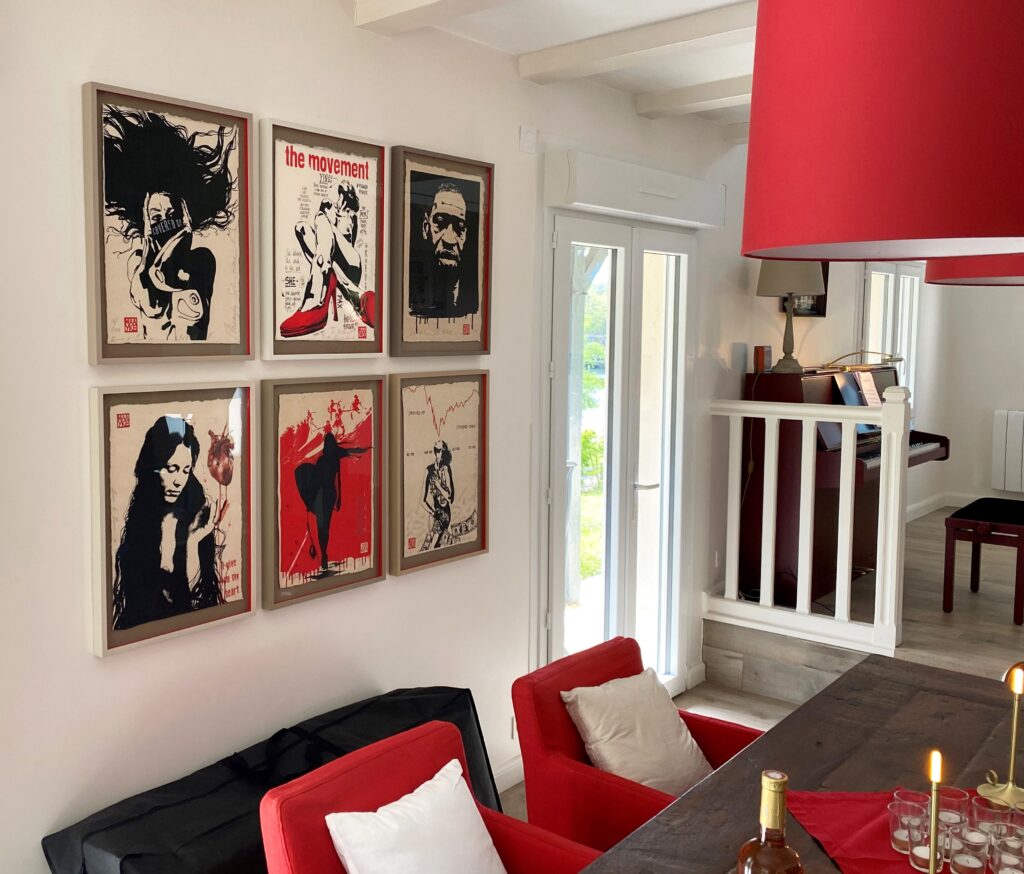 Artworks outside of this edition
The works in the box are also available in an original "core work" or a low edition in a larger format. Each format requires its own approach and these works differ from the 6 prints in the BOX2020, but are linked to each other. Would you like to know if there is any core work available? You can contact us via info@maayke-collection.com